Timor-Leste's physical geography is mountainous. It is part of an archipelago of islands that make up maritime Southeast Asia. This archipelago includes Brunei, Indonesia, Malaysia, New Guinea, and the Philippines.
Photo: Timor-Leste's physical geography includes a variety of sealife (Creative Commons Nick Hobgood).
Timor-Leste's Physical Geography and Location
Timor-Leste is located in the archipelago of Southeast Asia. Although part of the Indonesian chain of islands, Timor-Leste was a Portuguese colony. In contrast, Indonesia was a Dutch colony.
The country consists of the eastern half of the island of Timor, Timor's Ocussi-Ambeno region, and two nearby islands. These islands are Pulau Atauro and Pulau Jaco.
Area
Timor-Leste is relatively small. It has an area of 14,874 square kilometers. The country is the 159th largest country in the world.
Landforms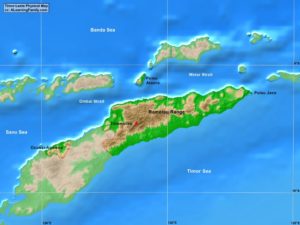 Timor-Leste is primarily a mountainous region surrounded by coastal plains.
The country is surrounded by the Banda, Savu and Timor Seas.
The highest point in the country is Foho Tatamailau with an elevation of 2,963 meters.
Climate and Vegetation
Timor-Leste has a wet equatorial type of climate. The climate has high temperatures and rainfall throughout the year. The dominant type of vegetation in this climate is the tropical rainforest.
Natural Hazards
Timor-Leste is located in a geologically active region. As a result, it is vulnerable to earthquakes and tsunamis. Where mountainous regions have been disturbed, flooding and landslides may occur.
Improving Your Reading and Thinking Skills
Think for a few moments. Try to recall the major ideas in this article. When you are done, click the box below for a list of main ideas.
How did you do? With practice, you should be able to identify many of the major ideas. You may even discover some important ideas that aren't listed.
Bibliography
East Timor Geography, East Timor.