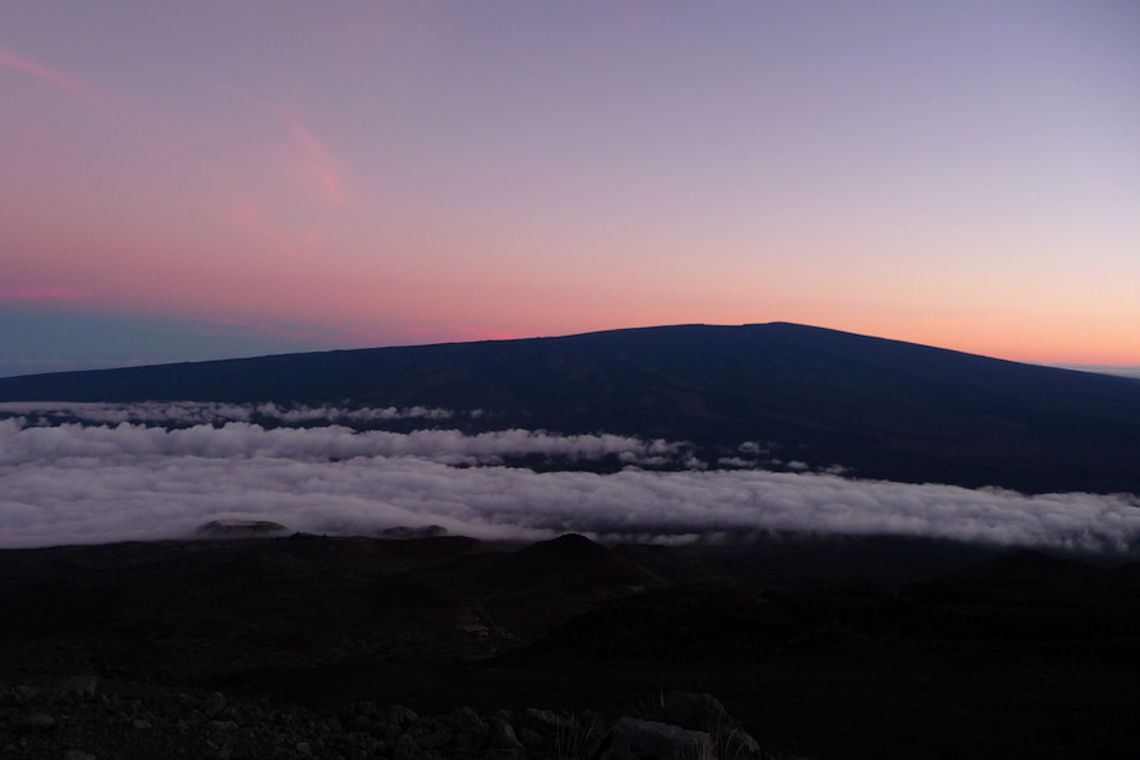 A shield volcano is quite different from the stratovolcano. A shield volcano does not have the cone shape of a stratovolcano. It has more gentle slopes that are not as steep. Its eruptions also tend to be much less violent than those of the stratovolcano.
Photo: Mauna Loa in Hawaii is a shield volcano (Creative Commons: mifl68).
What is a Shield Volcano?
Shield volcanoes are formed from many lava flows. Broad sheets of lava flow long distances and build up gentle slopes. In contrast, stratovolcanoes have explosive eruptions and are built of layers of lava and ash. The gentle slopes of a shield volcano resemble a warrior's shield lying on the ground.
The magma that feeds a shield volcano's eruption is generally very fluid. It is usally hotter but less gaseous than the magma feeding a stratovolcano. When the magma reaches the earth's surface, the eruption is relatively mild. The lava flows smoothly away from the center of the eruption and forms broad sheets of lava.
Mauna Loa and Hot Spots
Stratovolcanoes are found where tectonic plates are colliding. However, shield volcanoes are not found in these locations. Shield volcanoes are usually created as an oceanic plate moves over a hot spot. A hot spot is a center where there is an upwelling of magma. The movement of the plate over the hot spot produces an island chain of shield volcanoes.
Mauna Loa is often considered the largest volcano that rises above sea level on the planet. Its elevation (4,169 meters) is slightly less than Mauna Kea (4,207 meters). However, Mauna Loa has an elevation of 9,170 meters above the ocean floor. In comparison, Mt. Everest has an elevation of only 8,848 meters above sea level.
In addition, the weight of Mauna Loa has actually depressed the earth's crust. If one was to measure the height of Mauna Loa from the original surface, it would have an elevation of 17,170 meters.
East African Rift and Diverging Plates
Shield volcanoes are also found where tectonic plates are diverging (moving apart). The shield volcanoes of East Africa are examples of this type of shield volcano. The East African Rift zone is an area of volcanic activity. In time, the rift zone will cause East Africa to break away from Africa.
Iceland is another location where shield volcanoes are found. These shield volcanoes are also forming where tectonic plates are diverging.
Improving Your Reading and Thinking Skills
Think for a few moments. Try to recall the major ideas in this article. When you are done, click the box below for a list of main ideas.
How did you do? With practice, you should be able to identify many of the major ideas. You may even discover some important ideas that aren't listed.
Bibliography
Three Major Types of Volcanoes, Science Ideas.