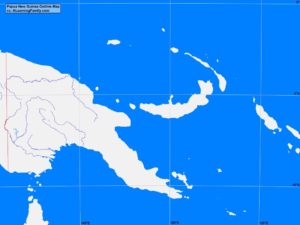 The Papua New Guinea outline map is provided. The outline map includes a list of neighboring countries, major cities, major landforms and bodies of water of Papua New Guinea.
A student may use the blank map to practice locating these political and physical features.
Map: a blank outline map of Papua New Guinea (Creative Commons: A Learning Family).
Click on the map to see a full-sized image of the country.
Features of the Papua New Guinea Outline Map
Neighboring Countries
Major Cities
Port Moresby (capital)
Aletau
Arawa
Bulolo
Daru
Goroka
Kavieng
Kimbo
Klunga
Kokopo
Lae
Madang
Mendi
Mount Hagen
Popondetta
Tari
Vanimo
Wau
Wewak
Bodies of Water
Major Landforms
Aramia River
Bougainville.
Central Range
D'Entrecasteaux Islands
Eastern Highlands
Finisterre Range
Fly River
Louislade Archipelago
Manus Island
New Britain
New Ireland
Owen Stanley Range
Ramu River
Sepik Ariver
Solomon Islands
Southern Highlands