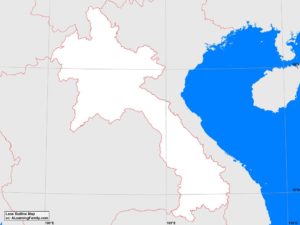 The Laos outline map is provided. The outline map includes a list of neighboring countries, major cities, major landforms and bodies of water of Laos.
A student may use the blank map to practice locating these political and physical features.
Map: a blank outline map of Laos (Creative Commons: A Learning Family).
Click on the map to see a full-sized image of the country.
Features of the Laos Outline Map
Neighboring Countries
Burma
Cambodia
China
Thailand
Vietnam
Major Cities
Vientiane (capital)
Champasak
Huayxay
Luang Prabang
Pakxan
Pakxe
Phongsaly
Phonhong
Savannakhet
Thakek
Xaignabury
Xam Nua
Bodies of Water
Major Landforms
Annamite Range
Bolaven Plateau
Kong River
Luang Prabang Range
Mekong River
Mekong Valley
Phou Bia
Plain of Jars
Xiangkhoang Plateau