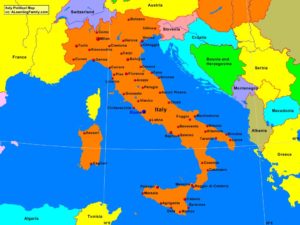 The Italy political map is provided. The political map displays the neighboring countries and major cities of Italy.
The relative population size of each city is indicated by the size of the red circles on the map. The capital is represented by a blue circle.
Map: political map of Italy (Creative Commons: A Learning Family).
Click on the map to see a full-sized image of the country.
Features of the Italy Political Map
Neighboring Countries
Albania
Algeria
Austria
Bosnia and Herzegovina
Croatia
France
Greece
Montenegro
Slovenia
Switzerland
Tunisia
Major Cities
Rome (capital)
Agrigento
Alessandria
Altamura
Ancona
Arezzo
Ascoli Piceno
Benevento
Bitonto
Bologna
Bolzano
Brindisi
Cagliari
Carpi
Carrara
Catania
Catanzaro
Cesena
Chieti
Chioggia
Civitavecchia
Como
Cosenza
Cremona
Cuneo
Fano
Florence
Foggia
Gela
Latina
Lecce
Livorno
Manfredonia
Marsala
Messina
Milan
Modica
Naples
Palermo
Perugia
Pisa
Reggio di Calabria
Salerno
Sassari
Syracuse
Taranto
Turin
Udine
Venice
Verona