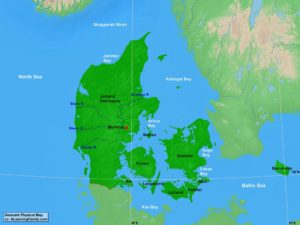 The Denmark physical map is provided. The physical map displays the major landforms and bodies of water of Denmark.
Major landforms include mountains, plains, plateaus, and rivers. Major bodies of water include oceans, seas, bays, and lakes.
Map: physical map of Denmark (Creative Commons: A Learning Family).
Click on the map to see a full-sized image of the country.
Features of the Denmark Physical Map
Bodies of Water
Major Landforms
Als
Bornholm
Falster
Funen
Gudena River
Jutland Peninsula
Langeland
Lolland
Mollehoj
Mon
Samso
Skern River
Stora River
Varde River
Zealand