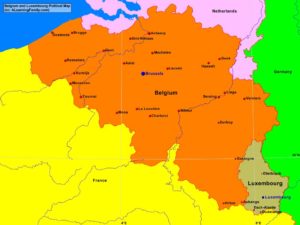 The Belgium and Luxembourg political map is provided. The political map displays the neighboring countries and major cities of Belgium and Luxembourg.
The relative population size of each city is indicated by the size of the red circles on the map. The capital is represented by a blue circle.
Map: political map of Belgium and Luxembourg (Creative Commons: A Learning Family).
Click on the map to see a full-sized image of the country.
Features of the Belgium and Luxembourg Political Map
Neighboring Countries
France
Germany
Netherlands
Major Cities
Brussels (capital)
Luxembourg (capital)
Aaist
Antwerp
Aubange
Bastogne
Brugge
Charierol
Dudelange
Durbuy
Esch-Alzette
Ettelbruck
Genk
Gent
Hasselt
Kortrijk
La Louviere
Leuven
Liege
Mechelen
Mons
Mouscron
Namur
Oostende
Roeselare
Seraing
Sint-Niklaas
Tournai
Verviers
Virton