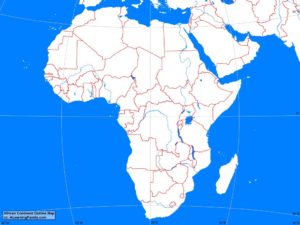 The African continent outline map is provided. The outline map includes a list of countries in Africa.
A student may use the blank map to practice locating these political features.
Map: blank outline map of Africa (Creative Commons: A Learning Family).
Click on the map to see a full-sized image of the continent.
Features of the African Continent Outline Map
Central Africa
Angola (Luanda)
Cameroon (Yaounde)
Central African Republic (Bangui)
Chad (N'Djamena)
Democratic Republic of the Congo (Kinshasa)
Equatorial Guinea (Malabo)
Gabon (Libreville)
Republic of the Congo (Brazzaville)
Sao Tome and Principe (Sao Tome)
East Africa
Burundi (Bujumbura)
Djibouti (Djibouti)
Eritrea (Asmara)
Ethiopia (Addis Ababa)
Kenya (Nairobi)
Madagascar (Antananarivo)
Malawi (Lilongwe)
Mozambique (Maputo)
Rwanda (Kigali)
Somalia (Mogadishu)
Tanzania (Dar es Salaam)
Uganda (Kampala)
Zambia (Lusaka)
Zimbabwe (Harare)
North Africa
Algeria (Algiers)
Egypt (Cairo)
Libya (Tripoli)
Morocco (Rabat)
Sudan (Khartoum)
Tunisia (Tunis)
Western Sahara (El Aaiun)
Southern Africa
Botswana (Gaberone)
Lesotho (Maseru)
Namibia (Windhoek)
South Africa (Pretoria)
Swaziland (Mbabane)
West Africa
Benin (Porto Novo)
Burkina Faso (Ouagadougou)
Cape Verde (Praia)
Cote d'Ívoire (Yamoussoukro)
Ghana (Accra)
Guinea (Conakry)
Guinea-Bissau (Bissau)
Liberia (Monrovia)
Mali (Bamako)
Mauritania (Nouakchott)
Niger (Niamey)
Nigeria (Abuja)
Senegal (Dakar)
Sierra Leone (Freetown)
The Gambia (Banjui)
Togo (Lome)